Meet the Grunberger Diabetes Institute Team
George Grunberger
Medical Doctor, F.A.C.P., M.A.C.E.
George Grunberger, received his B.A. (biochemistry) from Columbia College of Columbia University (New York City), M.D. from New York University School of Medicine (New York City), internal medicine training at Case Western Reserve University in Cleveland, Ohio and Endocrinology/Metabolism training in the Diabetes Branch at the National Institutes of Health in Bethesda, Maryland where he then stayed as senior investigator.
Between 1986 and 2002 he established and then directed the Comprehensive Diabetes Programs at both the Detroit Medical Center and Wayne State University School of Medicine. Early in his career, Dr. Grunberger saw the need for a comprehensive diabetes treatment facility where persons with diabetes could receive specialized care and address the many facets of their disease. The Grunberger Diabetes Institute, established in 2002, is the result of his vision.
Dr. Grunberger is also, among others:
Is the Past President of the American Association of Clinical Endocrinologists (AACE, the largest organization of clinical endocrinologists in the world).
Clinical Professor in the Department of Internal Medicine and in the Center for Molecular Medicine and Genetics at the Wayne State University School of Medicine
Professor of Internal Medicine at the Oakland University William Beaumont School of Medicine
Visiting Professor of Medicine in the First Faculty of Medicine at Charles University, Prague (Czech Republic)
Fellow of the American College of Physicians (as of 1989)
Fellow of the American College of Endocrinology (as of 2000)
Master of the American College of Endocrinology (as of 2020)
Past President of the Michigan Chapter of the American Association of Clinical Endocrinologists (2006-2011)
Past national AACE Board of Directors member, from 2006 to 2012
Elected by his peers for inclusion in the Best Doctors in America® every year between 2001 and 2020
A staff physician at Beaumont Hospital, Royal Oak.
A sought after speaker on all aspects of diabetes nationally and internationally
An author of over 150 scientific and medical articles in peer-reviewed literature, in addition to reviews and book chapters
An investigator on well over 100 clinical research studies
Anjana Myneni
Medical Doctor, F.A.C.E
Dr. Anjana Myneni received her medical degree from the Kempegowda Institute of Medical Science/Bangalore University, India. She performed her training in internal medicine at Lankenau Hospital/Thomas Jefferson University Program in Philadelphia, PA and at Johns Hopkins University/Sinai Hospital Progam in Baltimore, MD.
Her fellowship in endocrinology and metabolism was at Michigan State University in East Lansing, MI. Before joining GDI she was a staff member in the Division of Endocrinology, Allegheny General Hospital/Drexel University in Pittsburgh, PA.
Dr. Myneni is board certified in internal medicine, endocrinology and metabolism.
She is a Fellow of the American of Endocrinology. She is a certified densitometrist by the International Society of Clinical Densitometry (ISCD). She has presented at many scientific meetings and has published peer review articles in the endocrinology and metabolism field.
Dr. Myneni specializes in managing disorders of the thyroid, parathyroid, pituitary, adrenal glands, lipids, osteoporosis and diabetes mellitus.
She is a staff physician at St. Joseph Mercy Oakland Hospital.
Donna Hamill
DNP, NP-C, BC-ADM
Donna Hamill, Nurse Practitioner, attended Wayne State University and completed a second-degree BSN program in 2010. She then earned her doctor of nursing practice from Wayne State University in 2014 when she was named a Jonas Veteran's Healthcare Scholar.
Donna also holds a BS in Marketing and Economics from Illinois State University.
"I have a passion for helping people with endocrine disorders," said Donna. "I see patients in the outpatient setting and provide medical management and patient education regarding diabetes, thyroid disease, osteoporosis, and other endocrine conditions."
Donna's favorite part of her job is the one-on-one interaction with patients. She said after getting to know her patients and understanding their views on health, it helps to make her care patient specific. Doctorate of Nursing Practice degree from Wayne State University. Her specialty is advanced Diabetes management.
Dr. Amy Lum Tobin completed her undergraduate degree in Medical Technology at Oakland University then post-graduate education at Michigan State University College of Osteopathic Medicine.
Her medical training started with an Internal Medicine Residency at Botsford General Hospital (Beaumont Farmington) followed by Endocrinology Fellowship at
Bi-County Community Hospital in Warren, MI.
She has been in private practice/adult general endocrinology since 1996 and proudly participated in medical training of medical students, residents, and endocrine fellows through 2019.
"It has been a journey of honor, pride, and joy to have had the opportunity to care for so many patients with chronic diseases such as diabetes, thyroid dysfunction or cancer, hypertension, lipid abnormalities, obesity, osteoporosis, and other less common endocrine disorders. To see improvements in their daily lives when empowered by the tools we give them as medical providers warms my heart" says Dr. Tobin.
She continues to engage in up to date therapy and technological advances in diabetes care, which have revolutionized the management of diabetes all over the world. Healthy living through individualized dietary and physical activity is also a passion in Dr. Tobin's personal and patients' lives.
Angie Golden came to Grunberger Diabetes Institute in December 2020 with over 16 years of medical reception experience. She has dedicated herself to provide quality service and deliver excellence to the patients she encounters. Angie enjoys spending time with her grown children and grandson. In her spare time, she enjoys a good book, watching movies, bowling and the outdoors.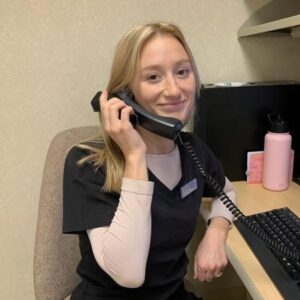 Alyssa Arbour
Receptionist
Alyssa Arbour joined the Grunberger Diabetes Institute staff in 2021. She has extensive customer service and communication skills. Her positive attitude is infectious. She enjoys laughing and spending time with her loved ones. She also appreciates a scary movie every now and then.
Lynne Frazier
Office Manager
Lynne was very enthusiastic to join the staff at Grunberger Diabetes Institute in August of 2016. She has 15 years of medical office management experience, and loves working at GDI daily. She appreciates how the doctors are respectful of their patients' time and treat their employees like family. She subscribes to the motto, "Love what you do and you will never work a day in your life." She enjoys spending time on her pontoon with her family, her new grandson James, and two dogs, Joey and Chandler.
Elizabeth Shimoura
Cornerstone Wellness Coach
Elizabeth earned her Master of Science degree from Kyoto University Graduate School of Biostudies in Systemic Life Science. She is the Grunberger Diabetes Institute's Cornerstone Wellness Coach. She provides patients with the tools, training, and support needed to jump-start and manage their weight loss. She customizes an individual weight loss and wellness program for each patient. In her spare time, Elizabeth enjoys rock climbing and spending time outdoors.
Gabriela Vettorello
Medical Assistant
Gabriela is currently pursuing her bachelor's degree in Biomedical Science at Marquette University. Her goal is to further her education and become a physician assistant. She works with the dietary staff at Marquette University implementing healthy dietary options and converting recipes to be more nutritious. In her spare time, she enjoys yoga and running.
James Bolday
Medical Assistant
James has worked as a medical assistant for over 10 years. Prior to joining Grunberger Diabetes Institute, James was a medical assistant at Kidz1st Pediatrics. James' areas of expertise include his patient interaction, teaching of diabetes medications, and time management. He is a people person and most patients know him by name at the office. James is always trying to further his knowledge of diabetes and stay up to date with all of the ongoing changes in the world of diabetes. When not hard at work, James enjoys relaxing, catching up on shows, and spending time with his wife and family.
Monica Pham
Medical Assistant
Monica recently joined the Grunberger Diabetes Institute! She graduated from MSU with a bachelor's in Human Biology with a minor in pharmacology and toxicology. She will continue her education in a master's in public health, working towards medical school! On her off time, she enjoys longboarding and knitting.
Haley Scott
Medical Assistant
Haley Scott graduated from Michigan State University in December 2019. She plans on attending medical school in the fall of 2021. In her free time, she loves being outside playing volleyball and participating in all sports. She also enjoys spending time with her family and friends.
Zahra Kazem
Medical Assistant
Zahra Kazem is a current student at Oakland Community College pursuing her degree in science. Prior to working at Grunberger Diabetes Institute, she had worked for four years as a medical assistant in Neurosurgery and pain management. She hopes to start her pre-med education at Oakland University in the spring. Zahra has an avid interest in medicine and loves gaining knowledge in the medical field. In her spare time, she enjoys watching documentaries about serial killers and history. She also takes pleasure in raising her German-husky dog, Sasha.
Ellen Darnall, RD, CDCES
Dietitian
Ellen Darnall, RD, CDCES, attended Michigan State University and completed her dietetic internship at Wayne State University.
Ellen has been a practicing dietitian since 2013. She has worked in clinical, community, and outpatient education settings. Ellen will be assisting patients at Grunberger Diabetes Institute through insulin pump training, individual medical nutrition therapy appointments, and diabetes education and nutrition classes. Ellen uses food as medicine approach to develop individually tailored nutrition advice for patients with diabetes, kidney disease, obesity, cardiovascular and gastric disorders.
"What I love most about what I do is being able to provide education to help people understand how healthy eating and lifestyle changes can lead to better management of the chronic disease. I help my patients learn to understand how nutrition directly impacts their overall health and wellbeing. When I'm not at work you can find me running, practicing yoga, or cooking up a healthy vegetable-filled meal with my family."